A short primer that places cultural context at the heart of comics creation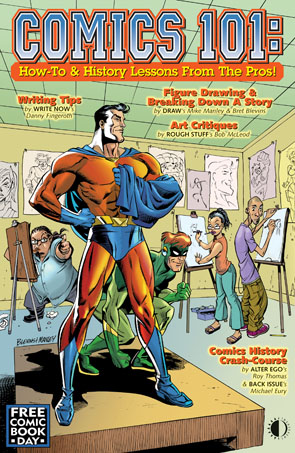 Most manuals and 'how-to' books about making comics fall into three categories: the first assumes no drawing skill on the reader's part and instructs accordingly; the second assumes some skill in drawing (and using software) and offers technical direction about combining or adding to those skills; the third, and most useful, considers comics holistically, as a cultural medium.




Comics 101

falls into this third category. Really an extended magazine, produced by by TwoMorrows Publishing for Free Comic Book Day 2007,

Comics 101...

features articles by editors from several of its specialist comics-related magazines.

So firstly, there are articles on figure drawing and story layout, which cut to the point very smartly.


I also found Bob McLeod's critique of a Fantastic Four layout fascinating and full of direct advice ('It's always better to design your elements using diagonals, rather than horizontals and verticals' and 'center the figures in the panel, then design the backgrounds around them' and so on).


The article on writing is fairly general, but offers some good points on etiquette in dealing with publishers. But the two longest articles are potted histories of comics. The first article explains the roots of the comics medium up to the 1970s and the evolution of the super-hero genre.
The second article concerns the modern era of comics, the advent of commercialisation and direct sales and the innovation of indie comics and the graphic novel.


What marks

Comics 101

out as unusual is its insistence on basic skills, patient development of ideas and awareness of the historical and cultural context in which comics are created and consumed.

Of course it cannot be as in-depth as Scott McCloud's

Making Comics

, at just 30-odd pages, but as a freebie it is excellent value in every way.